WHAT ARE AFTERMARKET CAR PARTS?
The majority of vehicle owners, for one reason or another, have had to get a part replaced in their car. For those that have never faced this issue, it likely will come up at some point in the future. When you need a buy a new part for your car, you have a choice: get an OEM (Original Equipment Manufacturer) part directly from a dealership or buy an aftermarket part from another source. Since this is a dilemma that most car owners will face at some point, it's important to understand the difference so you can make the best decision for your vehicle.
Aftermarket parts (also known as generic parts or non-OEM parts) are made by a manufacturer other than your vehicle's original manufacturer. These parts are designed to perform the same function as the original part and can be used as replacements for the car's original parts when doing repairs.
On the other hand, an OEM part is any part that was made by the same manufacturer that built your vehicle and are generally the same parts that were originally put into your car. This means that an OEM part is going to fit your vehicle perfectly and are guaranteed to function well in your car. For example, INFINITI Genuine Parts are considered OEM parts for any INFINITI vehicle. Since OEM parts are made by car manufacturers, these parts are held to the same quality assurance standards that are placed on the parts in brand new vehicles.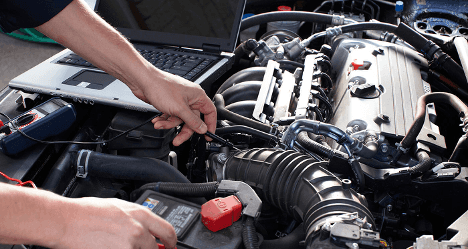 OEM parts can typically only be bought from a dealership. Most dealers often have an entire parts department with Factory-Trained staff that know both OEM and aftermarket parts, as well as the brand's vehicle models, meaning that they can provide customers with advice and guidance to help them choose the right parts for their car.
The biggest difference between aftermarket parts and OEM parts is choice. Generally, there's a wide selection of aftermarket parts to choose from for any one vehicle model, whereas an OEM part is only ever made by one specific manufacturer.
While aftermarket parts will most likely be less expensive than OEM parts, buying an aftermarket part also comes with a level of uncertainty. The quality of aftermarket parts varies greatly, some are really well-made parts and others may do more harm to your vehicle than good. Since there's a large selection to choose from and because aftermarket parts generally aren't made for one specific make and model, we always recommend consulting a Trained Technician about which part will best fit your vehicle. By asking a Technician to help you pick out a part, you're ensuring that the part you bought will fit correctly and be compatible with your car.

If you are looking for Genuine INFINITI Parts, Markham INFINITI and our group of Factory-Trained Specialists can help you find exactly what you're looking for. We offer a wide selection of parts both in-store and online. For more information, click here!
Or if you're in the market for wholesale parts, Drive Autogroup has a team solely devoted to selling parts in bulk. Our Parts Wholesale Department provides parts to collision centres, body shops, retail stores, and more. We offer multiple brands including Toyota, Honda, INFINITI, Acura, Nissan, and Hyundai. For more, check out the link here!