IT'S EASY BEING GREEN
You don't have to buy a hybrid car to be an environmentally conscious driver. Here are a few tips to help you reduce your carbon… well rubber tireprint.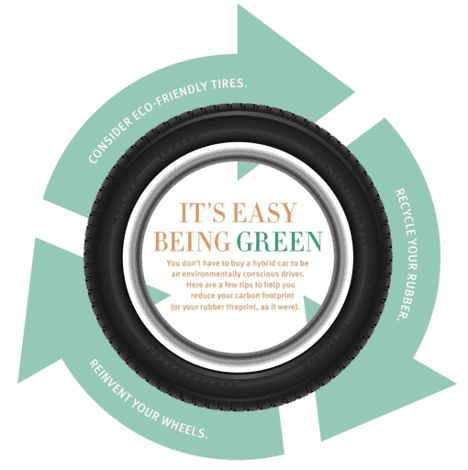 Consider Eco-Friendly Tires
Low rolling resistance tires not only reduce wasted energy as they roll, but also lower carbon emissions and cut fuel consumption by up to 4.5%. Low rolling resistance tires are safe, long-lasting and can save you over $500 in fuel costs over their lifetime. Make a safe choice for the planet, and your wallet with these eco-tires.
Recycle Your Rubber
Each year, a whopping 25% of tires end up in landfills after they've run their course on the road. Recycling tires gives up a substantial amount of landfill space. It also helps reduce the risk of scrap tire fires and pollution, and eliminates the potential breeding grounds of disease – carrying mosquitoes.
Reinvent Your Wheels
Repurpose your worn treads into something you can use around the house. You could make a tire swing for the kids, flowerbeds for your yard — even a cool piece of industrial-style furniture for your living room. Just get your tools, some creative spirit, and have yourself a relaxing "craftnoon."