All About The 2022 INFINITI QX50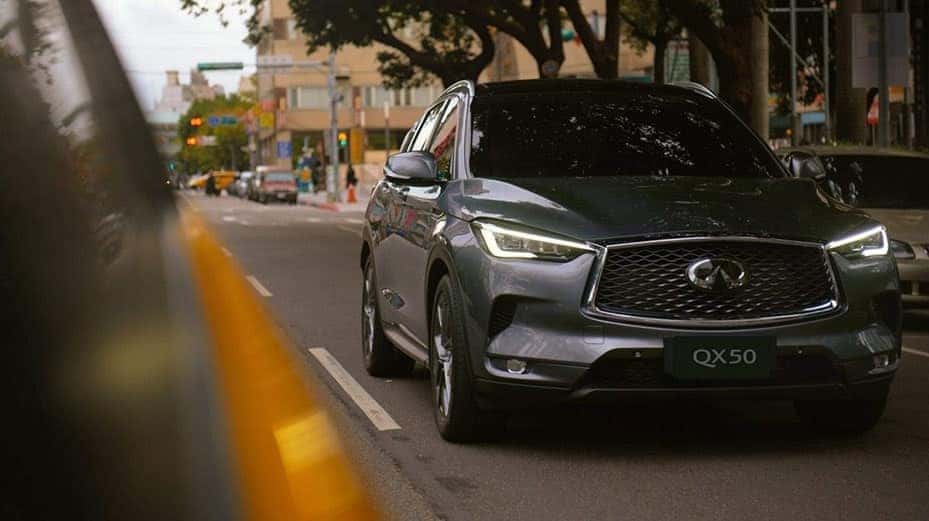 The INFINITI QX50 is a compact luxury crossover SUV manufactured by INFINITI. It is currently available in 5 trims: Luxe 2WD, Luxe Style AWD, Black Edition, Sensory, and Autograph, and is powered by a 2.0L 4-cylinder engine. 
The INFINITI QX50 promises to deliver safety, comfort and power with its new automatic sensor system.
In this guide, we'll go over its notable design features. 
Exterior Design
The INFINITI QX50 is longer and wider than its predecessor. It has a large grille with a sharp bevel that stretches almost halfway down the front fenders. The QX50 has a sporty, muscular look that's accentuated by bulges on the hood and fenders.
The C-pillar and roof rails are thicker to make it look wider. The roof rails also serve as the mount for the roof-mounted LED light bar.
The INFINITI QX50 has a high beltline that curves upwards, giving it a sporty, assertive look.
Interior Design
The INFINITI QX50 features a standard leather-trimmed driver's seat, power driver's seat adjuster, foldable rear seats, ambient lighting, and floor mats.
The driver seat is heated, and the power driver's seat adjuster is up to the driver's comfort.
The steering wheel is heated, and the steering wheel controls are large and set far apart. The INFINITI QX50 has a large center console that houses dual front airbags and climate control. 
Engine Specifications
The engine of the INFINITI QX50 looks like an oval-shaped thing made of shiny, polished carbon. It is a 2.0 L 4-cylinder and has 268 horsepower and 380 N·m (280 lb·ft) torque. 
The engine is connected to a Continuously Variable Transmission that can send power to the front wheels or all four wheels. The car can reach 100 km/h in 6.9 seconds when it is set up for FWD driving, or 5.8 seconds when set up for AWD.
Pricing
The INFINITI QX50 is set for release in the early model year. The INFINITI QX50 Luxe 2WD, is priced at $47,645. 
For the Luxe Style AWD, it is priced at $51,728. For the Black Edition, it is expected to be priced $53,090. As for the Sensory, it will be priced at around $58,535.
Finally, for the Autograph, it will be expected to be priced at $62,620.
Safety and Driver Assistance Systems
The INFINITI QX50 promises to have advanced driver assistance systems that can help you drive safer. For safety, you have six airbags, 2-row curtain airbags and advanced parking sensors.
In terms of driver assistance, the INFINITI QX50 offers lane departure warning and lane intervention. It also has a Blind Spot Warning system and a Forward Emergency Braking system.
Technology and Infotainment
The INFINITI QX50 has a standard navigation system and Bluetooth connectivity, and an available Remote Engine Start. 
The display screen on the INFINITI QX50 looks like a sleek curved screen. It is also touch-sensitive, allowing you to control things like navigation and audio using your fingers.
In addition, the INFINITI QX50 has Apple CarPlay, Android Auto and MirrorLink compatibility.
Conclusion
However, it still maintains its luxury and cargo space, while being packed with safety features and driver assistance systems. The INFINITI QX50 is a promising crossover SUV that can deliver a great deal of power and comfort.
Try out this gorgeous car for yourself with Markham INFINITI. We offer a wide range of sedans and SUVs, including the 2022 INFINITI QX50. Take a look at our online catalogue today.